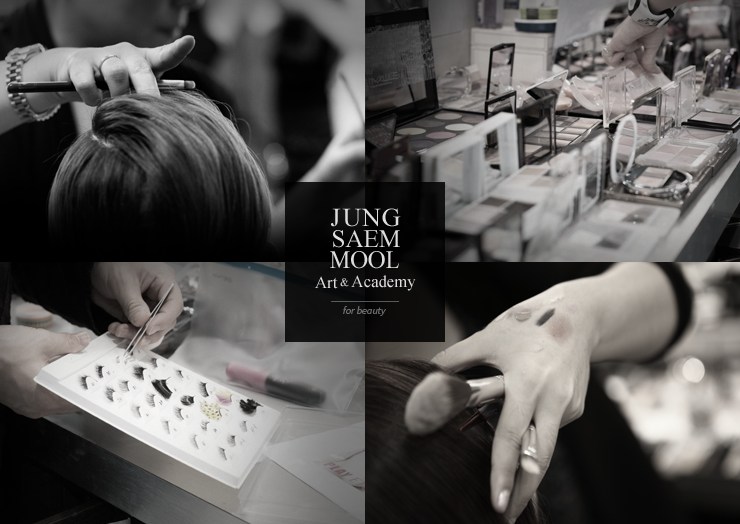 Mentor of numerous professional make-up artists and representative of Korea, Saem Mool Jung is the founder and president of Jung Saem Mool Art and Academy. The culmination of almost 30 years of know-how, Saem Mool Jung's academy is the leading trainer of professionals who will lead Korea's beauty industry in the years to come.
JUNG SAEM MOOL Art & Academy Saem Mool Jung's original theories on make-up and artistry are respected globally. As a leading educator of artists worldwide, Jung Saem Mool Art & Academy provides only the highest quality international curriculum consisting of various make-up techniques and theories for professional artists.
As the original inventor of transparent and natural make-up, Saem Mool Jung created her own theory of make-up called 'KEY7'. KEY7 combines Jung's own experience with make-up with her knowledge of Fine Arts from her studies in college. In 2001 Jung launched her own make-up mentoring brand 'MULL' based on KEY7.
JUNG SAEM MOOL Academy was established in 2005 Established in 2005, JUNG SAEM MOOL Academy offered both three month and six month professional courses based on 'KEY7'. Jung trained make-up artists involved in beauty industries, movies, dramas, advertisements, magazines, and the styling industries. In 2014, the academy was renamed 'JUNG SAEM MOOL Art & Academy' to signify its foundation in the arts. JUNG SAEM MOOL Art & Academy strives to be the leading institution for K-pop and make-up design around the globe.
JUNG SAEM MOOL Art & Academy instructs basic make-up techniques such as expression of light and shade. All the instructors are currently working in the field, so we are ready to share our experience on the scenes with brides and celebrities. The course is structured to have both demos and cross-practice. After learning theories and seeing demos from instructors, you and your classmates will do cross-practice on each other. This class should be thought of as a mechanism for your improvement as a makeup artist, which increases your ability to create your own styles of makeup based on our k-beauty know-hows.
History of JUNG SAEM MOOL Art & Academy
In 2005
- JUNG SAEM MOOL Academy was established
In 2014
- Renamed JUNG SAEM MOOL Art & Academy